Yamaha Synth Online Course
Yamaha Synth Online Course

 Obiettivi del Corso:
Yamaha Music Europe branch italy in collaborazione con www.lezionipianoforte.net by Manuele Montesanti è lieta di annunciarvi "YAMAHA SYNTH ITALY ONLINE COURSE" il primo servizio di lezioni online individuali sviluppato appositamente per poter sfruttare a 360° tutte le "features" e potenzialità del vostro synth/workstation YAMAHA
Il corso è rivolto a tutti i possessori di:
Montage 6/7/8 – MODX 6/7/8 – Motif XF 6/7/8 – MOXF 6/8 – MX 49/61 – Motif XS 6/7/8 – Mox 6/8.
Pogrammi Didattici: 
"Basic": 
1- IL SISTEMA OPERATIVO DEI SYNTH YAMAHA
Impostazioni di base e generali nel setup dello strumento (Modalità Utility). Aggiornare il firware ed il sistema operativo
2- PROGRAMMARE LE MODALITA' OPERATIVE: VOICE, PERFORMANCE, MIXING, MASTER
Programmare il proprio synth Yamaha per le "Performance Live" e per lo "Studio"
3- INSTALLAZIONE DI HARDWARE OPZIONALE
Schede Firewire (FW16E, mLan16 E2,) Memorie Flash (FL1024,Fl 512), Memorie Ram. 
4- CONFIGURAZIONE DELLE CONNESSIONI "USB TO HOST" – "USB TO DEVICE"
Caricare nuovi suoni e sample in Ram ( (MX- Motif Xf – Mox)  oppure nelle "Flash Memory"  (Motif XF – MOXF)
Connettere il synth Yamaha ad una DAW per Mac/PC e gestire il setup midi per la registrazione ed il "remote controller"
"Advanced": 
1- LA MODALITA' "INTEGRATED SAMPLING" (MOTIF XF – MOTIF XS)
Creare una "Waveform" da samples e campioni importati nella "Ram" o nelle "Flash Ram"
Gestire l' ISS  all'interno di un pattern (Time Slice/Stretching di file audio con il bpm del sequencer)
Creare una sequenza audio importarla nel sequencer ed impostare il "click audio" per le "performance live"
2- I SYNTH YAMAHA GESTITI COME HARDWARE/VIRTUAL INSTRUMENT (MOTIF XF, MOXF, MOTIF XS, MOX)
Gestire l'editor VST 3.0 all'interno di un software Steinberg o "Stand Alone"
3- CREARE UN SETUP "IBRIDO" TRA I SYNTH YAMAHA E I VSTi SOFTWARE (MOTIF XF, MOXF, MOTIF XS, MOX)
Utilizzare il synth Yamaha come scheda audio "low latency" per il "live"
Esportare Audio Digitale dentro una DAW utilizzando i bus "USB" e "FW"
"Custom":
Tutti gli argomenti trattati possono essere richiesti in forma "Custom" a seconda delle esigenze dell'utente finale.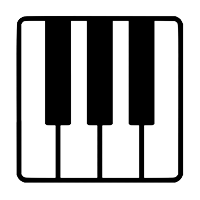 Pianoforte Moderno/Jazz

MIDI & Tastiere Multistyle

Yamaha Synth Italy Online Course